Unfortunately, 90% of Royal Honey in the market is fake.
They come with exact same package as the original, but with different ingredients (low quality honey with additives and dangerous ingredients).
Counterfeit medication has been known to contain dangerous ingredients, such as pesticides, lead, and mercury.
Often, counterfeit medication contains little to no active ingredient, and that means you won't get the results you expect.



**HOW TO SPOT THE DIFFERENCE**

1. Royal Honey VIP with ETUMAX Logo does not exist.
Royal Honey VIP only comes without ETUMAX Logo.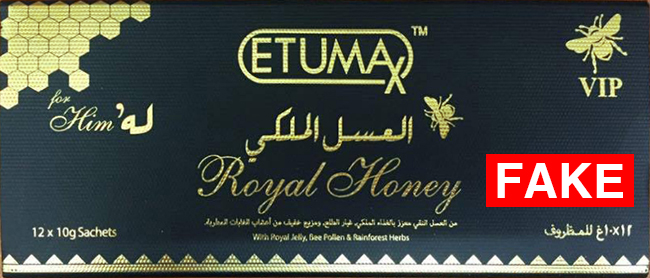 2. Batch Number only comes in 6 digits number.
For example 170520 indicates it was manufactured on May 20th 2017.
First "17" = 2017
Second "05" = May
Third "20" = 20th


Of course, there are fake products with exact same design / batch number.
It's really hard to tell the difference except for the ingredients.

Please be aware of fake ETUMAX products online.